TAS+SD continues its forth year of the CONSERVATORY PROGRAM, with classes beginning Monday, September 16, 2019 and runs through Monday, June 15, 2020. Students in grades 7 through 11 may apply for the 2019-2020 academic year. The program is geared towards young performing artists who seek highly focused training in theatre. Students will train with top notch theatre educators and artists. Coursework is taught in 2-6 week units such as:
Unit One: World Theatre History

Unit Two: Foundations in Acting Through a Decolonized Lens

Unit Three: Authenticity in Musical Theatre Performance

Unit Four: Viewpoints / Connecting the Body to the Performance

Unit Five: Lyrical and Contemporary Dance for the Musical Theatre Performer

Unit Six: On Camera Acting for the On Stage Actor

Unit Seven: Developing the Belt and the Mix

Unit Eight: Scene Analysis

Unit Nine: Diversity and Inclusion in Modern Theatre

Unit Ten: Commedia del'Arte / Mask Work

Unit Eleven: Developing your Musical Theatre Repertoire - Monologues and Songs

Unit Twelve: Audition Techniques
RECENT GUEST INSTRUCTORS:
Evan D'Angeles - Broadway Performer (MISS SAIGON, RENT, PACIFIC OVERTURES)
James Vasquez - Award Winning Director (AMERICAN MARIACHI, DR. SEUSS' HOW THE GRINCH STOLE CHRISTMAS, TINY BEAUTIFUL THINGS)
Katherine Haroff - Arts Engagement Programs Manager at THE OLD GLOBE, Artistic Director at CIRCLE CIRCLE DOT DOT
Jacole Kitchen - Artistic Programs Manager & Local Casting Director at LA JOLLA PLAYHOUSE
Erin Marie Reiter - Theatre Critic for BROADWAY WORLD, TALK THEATRE TO ME
Katie Banville Whalley - San Diego Choreographer at CYGNET THEATRE, Faculty Member GROSSMONT COLLEGE THEATRE DEPT.
Lauren Haughie Gillis - Universal Swing for WICKED
Michael Gillis - Currently playing "The Phantom"on the International Tour of PHANTOM OF THE OPERA
Justin Gray - Artistic Director at PACIFIC LYRIC OPERA, Pianist
Cris O'Brien - San Diego Music Director, Pianist, Coach, Performer
CLASS MEETINGS
4:45-6:45 on Mondays (excluding National holidays)

SHOWCASES AND RECITAL
Three showcases will be held: November, February, and May. The Annual Recital is held in June 2019. (Dates TBA)

COST OF PROGRAM
$200 per month (9 month program beginning 9/17 and ending 6/15)
AUDITION INFORMATION
By audition only. Applicants should prepare one monologue (approx. one minute in length) and a full song (musical theatre, or any other genre that shows off your vocal style). Please bring accompaniment on an iPod, or mp3 player. No CD's please. Auditions will be scheduled through September 14, 2019. To schedule an appointment, please call (619) 786-6068, or email: Courtney@TheatreArtsSD.org
HERE ARE SOME PERKS FOR CONSERVATORY STUDENTS!
COMMON QUESTIONS & ANSWERS
How will the Conservatory program help me?
These days, there is an abundance of talented young theatre performers. Many of you have seen this, for instance, when you go to a professional audition or have seen the large numbers of applicants for university programs. There are many, many GOOD performers. They can belt high notes. They can do triple pirouettes. But, the difference between GOOD and GREAT is outstanding. What is lacking in the performance of many young performers is authentic acting training. Someone can sing a song with technical prowess, but that song will not move an audience (or a casting director) if there is not honest storytelling motivating the performance. Acting is a craft, and students in Conservatory will work to refine their craft with great specificity, focus, and detail. Conservatory will help performers build a solid foundation of acting/vocal/movement technique, with a strong emphasis in truthful acting.
What is expected of a Conservatory student?
Students are expected to attend all Monday classes (excluding national holidays.) Students will be given "projects" to work on at home, such as monologues, scenes, and songs, and should be prepared for each class. Students should be respectful, mindful, and diligent. They are expected to perform at all showcases. If possible, they are encouraged to participate in other performance opportunities at TAS+SD. It will enhance their training experience in the Conservatory program.
What if I am in grade 12, but I would still like to be a part of the program?
Please email us at: Courtney@TheatreArtsSD.org. We will discuss your goals and experience level and see if the program would be a good fit for you.
What if I have occasional conflicts with the Monday class meeting time?
Some allowances will be made if a student is cast in a production and has, for instance, a tech conflict. If a student misses a class, they are responsible for the material they missed. We will provide resources to help them with makeup work. Excessive conflicts will not help the student, nor the program. A discussion about conflicts will occur at the audition.
Do I receive any recognition for completing the program?
Yes. Conservatory students who successfully complete the coursework will receive a TAS+SD Conservatory certificate. There will be a ceremony to honor our students.
What happens if I need to leave the program mid-year?
Conservatory is a 9 month commitment. (This is also a topic which will be discussed in the audition.) However, if there are unforeseen circumstances that mean a student needs to leave mid-year, the student will not receive the TAS+SD Conservatory Certificate.
May I join the program mid-year?
Possibly. Students who wish to join past the September 17th start date will still need to audition, and will only be admitted late to the program if the director feels it is advantageous to the student and the program. They will be responsible for the work they missed, and will be provided resources to help them with the missed work.
Is there a cancellation fee for leaving the program early?
Yes. The cancellation fee for Conservatory is $350. If a students drops mid month, they must pay for that month, as well as the cancellation fee.
What is the tuition fee and how are payments made?
The $200 monthly tuition is due the first day of each month. Some months have five Mondays, some months only four. Some Mondays are national holidays. The $200 monthly tuition stays consistent throughout the 9 month program, regardless of the number of Monday class meetings. TAS+SD will invoice students, and payments can be made by credit card which is kept on file. If a student prefers to make payments by cash or check (payable to TAS+SD), please be aware there is a $25 late fee for payments made after the fifth day of the month.
What if I do not have Monday availability, cannot commit to the 9 months, or I do not get into the Conservatory Program?
There are wonderful classes at TAS+SD that could be a good fit for you. We also have productions throughout the year that we encourage you to audition for.
IF YOU ARE INTERESTED IN SCHEDULING AN AUDITION FOR THE TAS+SD CONSERVATORY PROGRAM, PLEASE EMAIL:
Prepare for a Professional Career in Theatre
TAS+SD Conservatory Students prepare for professional theatre auditions, collegiate programs, and a long-term career in theatre
TAS+SD Conservatory Students learn how to create their own unique performances that represent their artistic voices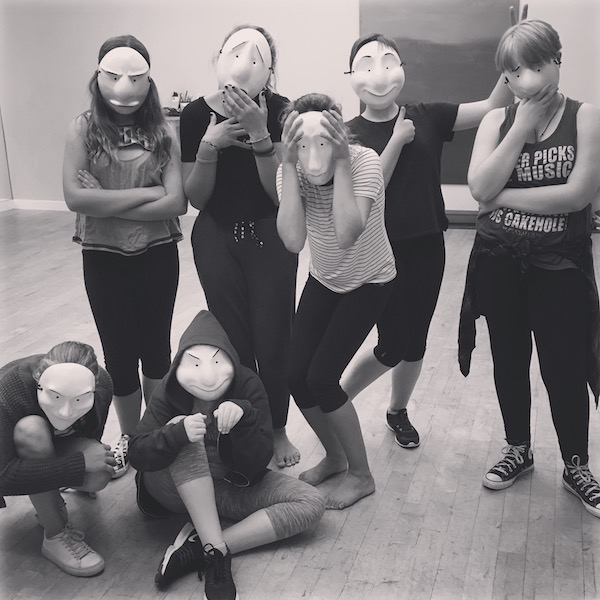 REAL DEAL Theatre Training
TAS+SD Conservatory Students delve into REAL training, including Mask Work, Storytelling Through Movement, and Viewpoints classes
TAS+SD Conservatory Students have a safe, supportive, and nurturing space to create their BEST art! Our instructors give each student the tools they need to find the artist within themselves and to grow into the performer they aspire to be.